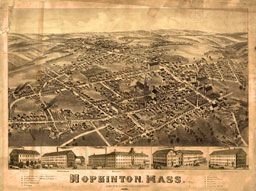 History of Hopkinton Drug!
Hopkinton Drug is an integrative, community compounding pharmacy in Hopkinton Massachusetts. This site was created to bring you select health and wellness information, provide an online shop filled with high quality health products and spread the word about our retail location.
Since 1954 Hopkinton Drug has been a caring community partner in this historic New England town. We are a multi-faceted store dedicated to providing clients with an array of healthcare options.
In our state-of-the-art compounding lab, we customize medications to meet patients' specific needs. We offer a comprehensive selection of nutritional supplements and nutraceuticals as well as a staff knowledgeable about those products. We also have a lactation department complete with a certified lactation consultant, lactation supplies, breast pump rentals and sales. We have a large orthopedics, durable medical equipment, and incontinence section as well as professionals ready to assist you in these areas.
Upstairs, in our 6,000-square-foot card and gift store, you will find more than just greeting cards and wrapping paper. Our gift store has gifts for all ages, occasions, and price ranges.
We look forward to seeing you! :)